[ad_1]

People could be allowed to vote on whether or not to give their neighbours planning permission for developments in their area under new reforms.
The government says the new Levelling Up and Regeneration Bill, which featured in the Queen's Speech read by the Prince of Wales on Tuesday, will amend the planning system to "give residents more involvement in local development" and "give communities a louder voice".
It is understood that residents will have the chance to vote on whether planning permission should be granted for extensions to existing homes on their street and will be able to decide rules governing the layout and materials used for new developments.
Former proposals to reform the planning system, which would have made it harder to block a new development, were put on pause amid strong Conservative resistance.
Politics Hub: Truss rejects EU proposal for Northern Ireland
The previous plans would have seen local councils in England having to label land in their area as protected, for renewal or for growth – with building projects conforming to agreed plans in areas for growth being given automatic initial approval.
The idea of local quotas for house building was also suggested, which would have seen a lot more homes built in what could be described as the Tory shires.
Many Conservative MPs believe the issue of planning has cost them votes in recent times.
It was one of the reasons the party lost the Chesham and Amersham by-election to the Liberal Democrats last year and lost seats to Sir Ed Davey's party in a number of former heartlands in this month's local elections.
Speaking during a debate in the Commons on the Queen's Speech, Conservative former housing secretary Robert Jenrick warned the government will miss its 300,000 homes-a-year manifesto pledge "by a country mile" under the new plans.
The Conservative Party's winning 2019 manifesto states that a Tory government would "continue our progress towards our target of 300,000 homes a year by the mid-2020s".
It continued: "This will see us build at least a million more homes, of all tenures, over the next parliament – in areas that really need the them."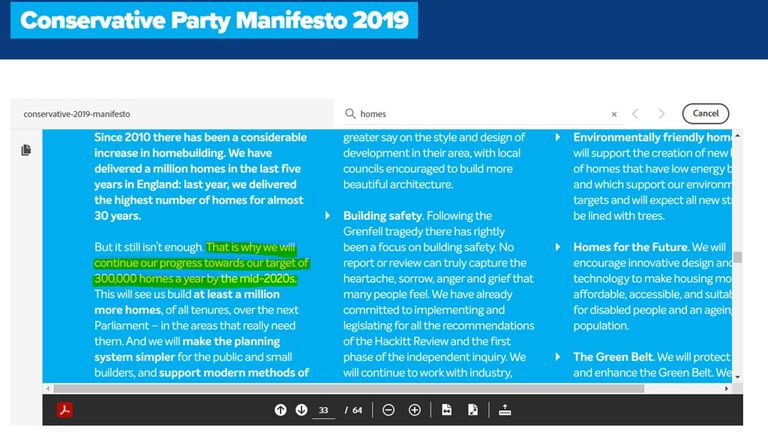 Mr Jenrick, who was sacked from his role by Boris Johnson in September 2021, raised concerns that the number of homes built under the PM's first year in office will be the "high-water mark" for "several years to come".
"We've got to get those homes built because we're letting down hundreds of thousands of our fellow citizens. People are homeless today because we're failing to build those houses," Mr Jenrick told MPs.
"Young people's rightful aspiration to get on the housing ladder is being neglected because we're not building those homes.
"If I had to guess, I would say that the number of homes we built in the first year of this administration under the prime minister and myself, almost 250,000, will be the high-water mark of the number of homes built in this country for several years to come, and that the government will miss its 300,000 homes-a-year manifesto pledge by a country mile.
"The only way in which we will get back to 250,000 homes a year and exceed it is if we together, on a cross-party basis, agree that that is not good enough and that we need to build more and find ways of doing that."
Read more:
Every major announcement in this year's Queen's Speech
Speaking the following day, Levelling Up Secretary Michael Gove acknowledged that the government would not meet its target to build 300,000 new homes this year, but said changes to the planning process in England would lead to more developments in the future.
"I don't think we are going to hit that target this year," he told BBC Radio 4's Today programme.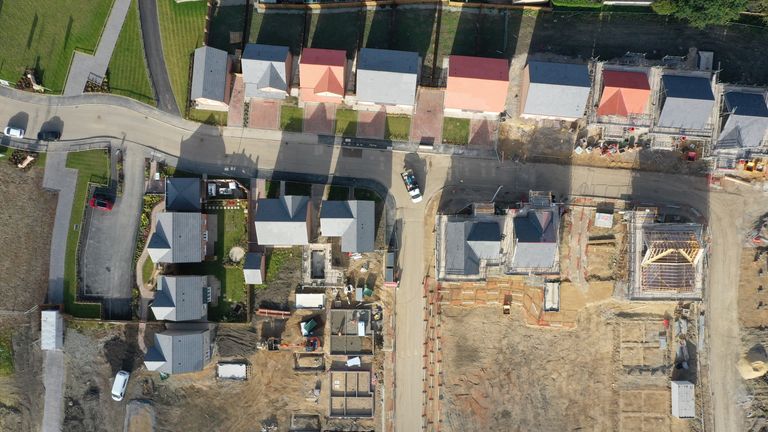 Asked whether the government would be more successful in achieving its house-building aim in the next couple of years, Mr Gove continued: "We are going to do everything we can in order to ensure that more of the right homes are built in the right way in the right places.
"Because I don't want us to be tied to a Procrustean bed. I think it is critically important that even as we seek to improve housing supply we also seek to build communities that people love and are proud of.
Pressed on whether the government will achieve the 300,000 new homes target by the middle of the decade, he said: "Well, we are going to do everything we can but it is no kind of success simply to hit a target if the homes that are built are shoddy, in the wrong place, don't have the infrastructure required and are not contributing to beautiful communities.
"Ultimately, when you are building a new dwelling, you are not simply trying to hit a statistical target – I am certainly not."
The levelling up secretary added that "we are not bound, I am not bound by one criterion alone when it comes to development".
But Downing Street later told reporters the government remains committed to its target of building 300,000 new homes a year.
"Our target to deliver 300,000-a-year is central to our levelling up mission," the PM's spokesperson said.
The details of the new proposals are expected to be published later today as part of the Levelling up and Regeneration Bill.
[ad_2]