[ad_1]

A cabinet minister has likened Boris Johnson's lockdown fixed penalty to a parking fine – ahead of the prime minister facing MPs for the first time since the punishment was issued.
Northern Ireland Secretary Brandon Lewis also told Sky News' Kay Burley that Mr Johnson had not misled parliament when he initially declared that no rules had been broken – arguing that he was saying what he believed to be true at the time.
Police have been investigating 12 events in Downing Street and Whitehall during 2020 and 2021 when lockdown rules were alleged to have been broken and so far more than 50 fines have been announced.
Politics Hub: Tory opponents 'building a coalition' against PM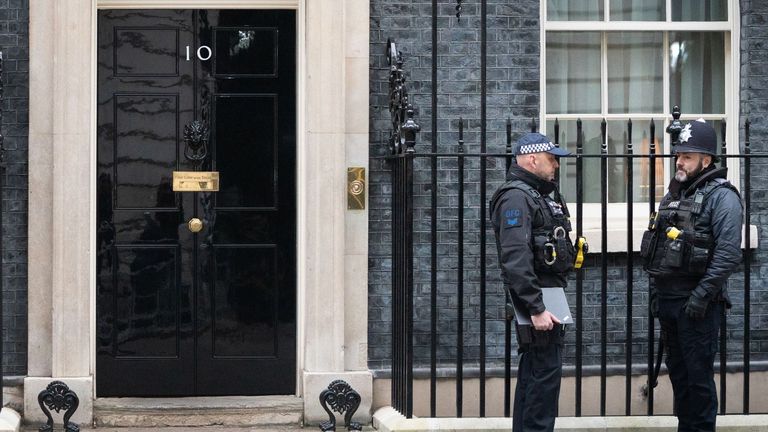 Last week it was revealed that Mr Johnson had been fined over a gathering on his birthday in June 2020, with his wife Carrie and Chancellor Rishi Sunak also receiving a punishment.
Downing Street is understood to be braced for more fines for the PM and reports over the weekend painted him as the instigator of leaving drinks for a staff member in November 2020 – another of the events being investigated.
Mr Lewis, pressed on whether a law maker can ever be a law breaker, told Sky News: "We do see consistently – whether it's through parking fines, whether it's through speeding fines, ministers of both parties over the years have been in that position.
Analysis: Johnson to tell MPs he is 'taking responsibility' for breaking the law
"We've had prime ministers in the past have penalty notices from what I can see… I saw that there was a parking notice that Tony Blair had once.
"Ministers in the past have, sadly, been subject to getting fixed penalty notices on a range of issues.
"They can continue to be ministers, they do continue to be ministers – we've seen that in both governments – the previous Labour government as well as the current Conservative government.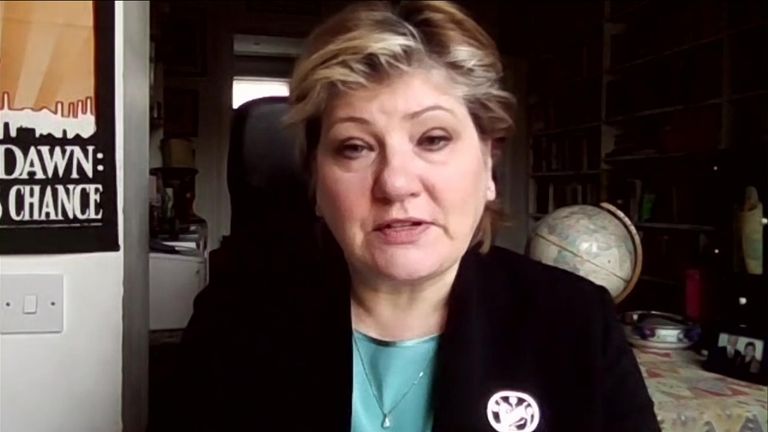 "The focus has to be on accepting when you've done something wrong, acknowledging what you've done – which the prime minister has – and being focused on moving forward to do things in the right way."
Asked whether Mr Johnson accepts that he broke the rules, Mr Lewis replied: "In the sense that he has paid a fine that the police have decided to issue because the rules were broken.
"But that doesn't mean that anything he said to Parliament was inaccurate at the time. What he said to Parliament he believed to be true at the time."
Tory MPs should 'look at their consciences'
Mr Lewis also appeared to indicate, when asked, that the PM would make it public if he receives any more fines.
"The prime minister's always been very clear that he'll be very open about any fines that he receives," he said.
Shadow attorney general Emily Thornberry told Sky News: "The truth is that the prime minister knew that he had been involved in parties, that parties were happening at Number 10 – it's his home, it's his office.
"They were happening at such a scale it is simply incredible for the prime minister to say that he just didn't know."
Follow the Daily podcast on Apple Podcasts,  Google Podcasts,  Spotify, Spreaker
Ms Thornberry said Labour was in discussion with other opposition parties "about what the most appropriate thing to do is next" after the PM's Commons appearance later.
But she acknowledged that Conservative MPs would be needed to win any vote against the PM – and urged them to "look at their consciences".
"They need to say 'enough is enough, this prime minister needs to go'."
'An erosion of trust'
Senior Tory backbencher Tobias Ellwood – who has previously said the PM should now "step back" – said the partygate affair should not be "trivialised" by being compared with parking fines.
"This is actually about a culture of ill discipline, a lack of leadership and focus during a time of national crisis that we were going through because of COVID," he told Sky News.
"The consequence of all that is an erosion of trust with the British people and actually damaging the party brand."
Mr Ellwood urged Mr Johnson himself to call a vote of no confidence but appeared to rebuff the idea of cooperating with opposition parties, instead arguing that the matter should be kept "in house" in the party
[ad_2]